Fresh Frozen Fillets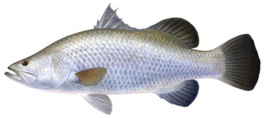 FISH FACTSHEET: 100% Australian Wild caught
Scientific Name: Lates calcarifer

All Barramundi fillets produced have been caught in the Gulf of Carpentaria by accredited fishermen who have completed studies in all aspects of safe food handling and holds a certificate of accreditation as a seafood producer and works within HACCP regulations. The Gulf of Carpentaria fishery is accredited as a sustainable fishery under the Commonwealth Government Environment Protection and Biodiversity Conservation Act, emitting a very low carbon footprint.

IN THE NAME:
Commonly known as Barra, Giant Perch, Palmer Perch and sometimes incorrectly known as Nile Perch. The name Barramundi is believed to originate from the Aboriginal word meaning large scale river fish.
ORIGIN:
Lenrex Fresh Frozen Barramundi fillets originate from the Gulf of Carpentaria. At its mouth, the Gulf is 590km wide and further south, 675km. The north-south length exceeds 700km. It covers a water area of about 300,000km2.
HABITAT, DISTRIBUTION & DESCRIPTION:
Barramundi are found in a wide variety of habitats in river creeks and mangrove estuaries in clear and turbid water, and are commonly found in river systems with large catchments with water temperatures above 20 degrees. Within Australia their range extends from the Mary and Maroochy River systems in South-East Qld around the entire northern coast to Shark Bay in WA. Barramundi are protoandrous hermaphrodites, meaning they start their lives as males, reaching maturity at around 3-4yrs and later change gender and become females, usually at around 5. They can grow up to 1.8mtrs.
COMMERCIAL VALUE:
The commercial side is managed through low intensity and minimum impact fishing and seasonal and area closures. Gulf net closures fall between 7th Oct and 1st Feb. Barramundi has gained a reputation as one of Australia's finest eating fish. High salinity water in the Gulf attributes to its top quality taste and colour.
COMMERCIAL PRESENTATION:
Fresh frozen at sea, the care taken to preserve the appearance of the fillet is meticulous, through a series, once caught, of brine tanks and snap freezers so as the fillet's beautiful white flesh is untainted. Packed in a 10kg top loaded fish cartons fillets generally can be individually bagged or interleafed (or both), dependant on fishing practises. Fillet counts are displayed on the carton and product comes as a run-of-catch. Lenrex does also provide, (off some select professionals) a graded carton. 10kg nett carton will have a catch range on average of weighs in the vicinity of 0.6 to 1.25kgs, and a 5kg nett carton of 300grams to 700grams. Any fish that could produce above a 2-2,5kg fillet is not kept and released when putting together a graded product.
SHELF LIFE:
Conducive to Safe Food requirements and guidelines, product has a "best before" of 18mths prior to packing date when store at -18 degrees or more.