Fresh Frozen Fillets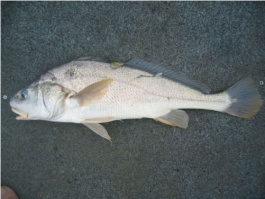 FISH FACTSHEET: 100% Australian Wild caught
Scientific Name: Nibea squammosa

All fillets produced have been caught in the Gulf of Carpentaria by accredited fishermen who have completed studies in all aspects of safe food handling and holds a certificate of accreditation as a seafood producer and works within HACCP regulations. The Gulf of Carpentaria fishery is accredited as a sustainable fishery under the Commonwealth Government Environment Protection and Biodiversity Conservation Act, emitting a very low carbon footprint.

IN THE NAME:
Commonly known as Jewel fish, its documented name is Scaly jewfish, and misidentified as Black and silver jewfish.
HABITAT, DISTRIBUTION & DESCRIPTION:
Predominately found in The Gulf of Carpentaria but can also habitat Far North Qld inshore areas. Minimum catch size is 45cm.
COMMERCIAL VALUE:
Gulf net closures between 7th Oct and 1st Feb. Predominately a northern fish; Jewel fish have a very white flesh and wonderful strong taste. Sometimes mistaken for a Barramundi fillet, the blood line is very similar in both fish.
COMMERCIAL PRESENTATION:
Fresh frozen at sea, the care taken to preserve the appearance of the fillet is meticulous, through a series, once caught, of brine tanks and snap freezers. Packed in a 10kg top loaded fish cartons fillets generally can be interleafed, dependant on the fishing practises.
SHELF LIFE:
Conducive to Safe Food requirements and guidelines, product has a "best before" of 18mths prior to packing date when store at -18 degrees or more.