The expertise and reputation of Lenrex Seafood Marketers are based on decades of seafood processing and marketing knowledge of its late founder, Walter Richardson. Since 1967, Walter's business endeavours saw him and his brother build an enterprise which included establishing seafood receiving depots all over Queensland, securing extended contracts to process seafood from New Guinea and the Torres Straits, and exporting cray tails to San Francisco and prawns to Japan.
Following a move to Cairns, Walter and his family founded Lenrex Seafood Marketers in response to market demand for a seafood supplier which not only understood the industry but was committed to providing wild caught seafood to the domestic market that was always of the highest quality and presentation.
Utilising his wide network of professional fishermen who Walter knew were just as dedicated as he was to sourcing and providing fresh, market-leading seafood products, Walter was able to implement at-sea seafood processing procedures which would stand his product apart from his competitors in the domestic market. Since his passing in 2012, Walter's family continue to operate Lenrex Seafood Marketers as a thriving business true to Walter's vision.
"I am honoured to fly the flag for quality local seafood in this country, and to represent some of the most dedicated, hard-working and honest fisherman this proud industry has to serve up. With continuing high standards and innovations towards processing and packaging, Wild Gulf Barra, and all related fish species for that matter, will be a part of everyday life for all Australians and ensure the future of our wonderful and industry."
Neil Moretto.
I would also like to add in a short section below on Walter Richardson, Founder.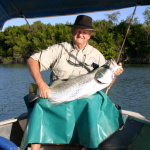 "Walter John Richardson 6/2/1926 – 11/10/2012"

From humble beginnings as a cane farmer of far north qld, Wal recognised an opportunity and followed a dream by entering into the seafood industry in the mid 1960's.
An honest and well respected man, and pioneer of his time.